Thursday, June 30th, 2005
---
11:22 pm
- oh deary me!

i made a new dress to wear on the weekend.


remember kids... i'm now mostly over at
petatron
Tuesday, June 28th, 2005
---
6:58 pm
1:37 pm
- its a good time for a list.
Friday, June 24th, 2005
---
7:24 pm
- retiring this account???
i think.

add
petatron

i've started adding some people already. but now i'm going to put purple bits in my hair.
Wednesday, June 22nd, 2005
---
9:46 pm
turns out i'm lactose intolerant.

so i ate two bowls of icecream tonight. hehe. i feel really gross and horrible now but it was yummy.

off to sew i go.
6:02 pm
would you notice if i deleted my journal?
Tuesday, June 21st, 2005
---
9:39 pm
someone taped the oc tonight right?
cos OMG i totally forgot it was on.

i feel sick from eating cheese pizza. and i had icecream today, which made me feel sick too. too much dairy for little petato today.

so i pretty much did jack all today, slept till 1, did a bit of work on
fakinghome's bag and watched tv and ate icecream. oh yeah.

jerry and i watched aladdin and return to oz and OMG i forgot about the oc. WHATS UP WITH THAT?

its cos i havce no idea really what day it is and nothing is how its meant to be, jo is in nz, saundra didn't go to dance. there was no tafe. UGH.

confusion.

think i'm gonna have some more icecream soon. hell if i feel sick i might as well feel sicker.
Monday, June 20th, 2005
---
11:18 pm
i was talking to jared a little while ago on msn and he was all 'peta meet me at the duckpond' and i was all 'um no its cold' and yes. its funny having someone in my town on my msn.

i'm eating coco pops right now but they are so not right because i actually wanted nutrigrain but OMg we don't have any. not cool. plus they have changed the coco pop monkey. again. he doesn't even wear a hat anymore. WTF is up with that???

i was going to watch a movie but i don't think i will now. as if i'd watch all of it anyway. i never watch all of movies anymore, i get too restless and bored after an hour. maybe i'll watch some fresh prince though.

my room is so freakishly clean right now its not right. its kind of like its not my room. i don't like it. i need at least a little bit of clutter.

i don't want to go back to tafe after the holidays. i feel like i'm just wasting the next 6 months by staying there and on the coast.
9:06 pm
damn its cold.

today i made my bed.

and then i sort of bummed around. and eventually i started working on the conor oberst bags for mac and
almostpretty. i made the strap of
fakinghome's bag but couldn't do anymore due to it being wet and stuff (it'll all make sense in time)

so yeah.

freaking cold.

you don't care. the end.
Sunday, June 19th, 2005
---
10:25 am
- its not how you dance its who you know
electric six are awesome. nay and i have been listening to them since last night.

she slept over last night, currently she's taking a shower,

we watched rock and roll highschool and made fun of how out of it the ramones were.

then we went to "sleep" but not really cos it was like being in highschool again and we talked smack about various celebrities. and ranked the strokes in hotness and renamed phil jamison and discussed the joy that is custard and old jebediah and stuff like that.

then there was the ever mocking hilarious game of truth or dare involving people we went to highschool with.

today we're going to the movies i think? to see batman begins. HOORAY! also to spotlight cos i need to pick a few things up.
Saturday, June 18th, 2005
---
6:37 pm
- ok sales are CLOSED for now. however if you want stuff don't fret.
[edit 9:44pm]
OK SALES ARE CLOSED.
but if you still want stuff let me know and i will still get to making it, but for now this is all that will be made this week at the moment (i dont' wanna overload myself)
however i possibly will make some other stuff and then i'll post pictures and the you can go 'oooh i want that'

ok??

hey hey brisneyland kids... (and everyone else really, though more brissy kids cos i can get money off you sooner)

if i make some stuff will you guys buy it off me later on this week?

PETA*TRON IS POOR AND WOULD LIKE SOME MONEY SO SHE CAN HAVE FUN. ok? also her car sorta needs fuel and working 4 hours a week at spotlight really isn't enough to live on.



(

wanna buy stuff from me???Collapse

)



um yes. i'm poor. please pay me.

love
Peta*tron

ps....

(

the tailored jacket of doooooom....Collapse

)
Friday, June 17th, 2005
---
6:23 pm
WE KILLED ONE OF SPRINKLES BABIES!!!!!!!!!!

we caught it and then it was dropped and then i wanted to stand on it and then we caught it again and jerry dropped it and we think it broke some limbs and we were like "i think its dead" and then she dropped it again and that definitely killed it.

we found the nest as well and so the mice will go away soon yeah???
4:05 pm
i bought the new get up kids live album, i tried to listen to it but it makes me angry. so i had to turn it off.
1:28 pm
- all the bands i've seen live
since i was 16 i've been keeping this list in the back of a notebook... i think i posted it once, but i believe that was a few years ago.. so it'd be different. so up until today here is pretty much every single band i've seen live minus some crap locals i don't remember the names of. i don't even remember seeing some of these bands now.

george
motar ace x2
sonic animation
28 days x 3
millencolin x3
the hippos
green day x2
unwritten law x 2 and a half
blink 182 x2
bodyjar x2
sunk loto x2
frenzal rhomb
nitocris
resin dogs
placebo
rammstein
limp bizkit
blowhard x2
nerf herder
goodcharlotte x3
billy bragg
one dollar short x5
guttermouth x3
crank
malpunktion
community cervix x2
the butterfly effect x2
15 seconds later x2
astroboi x4
front end loader
melodessey x2
moneyshot
breakeven x2
nofx
eskimo joe x2
sum 41 x3
throwdown (the aussie throwdown)
plasma
magneto whores
for amusement only x3
seraph's coal
blueline medic
alien ant farm
mxpx
the vandals x2
the mighty mighty bosstones
pennywise
a new found glory x3
lucky 7 x2
irrelevant
dick nasty
gazoonga attack x2
grinspoon
dropkick murphys
goldfinger x2
the vagrants
reel big fish x4
the porkers x2
the ataris x2
new school hero
something with numbers x3
queens of the stoneage
pj harvey
janes addiction
the foo fighters
the juliana theory
december waiting
the disables
boy sets fire
less than jake
me first and the gimme gimmes
turbonegro
dr octopus x2
area 7
triple 0 7
thursday
the strokes
the darkness
the nation blue x3
hot water music x3
thrice x3
alkaline trio x3
fear factory
static x
korn
the bouncing souls
the quickening
the get up kids
saves the day
gyroscope x2
nightstick x3
the scare
the von bondies
bright eyes
simple plan
avril lavigne
town hall steps
atreyu x2
unearth x2
norma jean x2
the daylight curse
a secret death
charles foster kane
the dresdon dolls
reggie and the full effect
the spazzys x2
spiderbait
the red paintings x2
the hives
evermore
the streets
butterfingers x2
slipknot
the beastie boys
the cat empire
the faint
the grates
wolf and cub
death from above 1979
new buffalo

now i really need to clean my room.
11:06 am
my dad opened the window in my room and now its cold.

he also opened the curtain. BAH sunlight. if anyone has ever seen my room, its dark, you need to put the light on no matter what time of day it is. and i always keep my curtains closed.

damn fucking mouse. still in my room. i set a trap for it, it set it off but it didn't die. little fucker.

today i shall be cleaning my room. JOY!

but now i'm going to go eat.

everyone has gone and the house is quiet and its just me. HOORAY. i'm tired of there being so many people in the house, i'm tired of talking to people. its like i just don't fucking care let me be alone.

and they ate all the salt and vinegar chips last night. NOT IMPRESSSED.
Thursday, June 16th, 2005
---
3:55 pm
time for a nap i think....
12:02 pm
the tailored jacket of doom is completed and handed in.

ratcat are in the latest issue of tsunami. i got excited seeing their name on the cover, thinking "hey maybe they've reformed and touring or somethign? how rad would that be" but no its just a little bit about them blah blah blah. not so interesting.

now i am free to do as i please pretty much for 2 weeks. HOORAY.

though i have a pattern making assessment due in the week after the hols. so i should probably do at least HALF of that.

right now i could go for a bowl of noodles.
Wednesday, June 15th, 2005
---
10:20 pm
- yeah this song is sooo motivating.
so i'm pretty sure i'm gonna fail my jacket.

then what? i don't know. that means i get withdrawn from the tailoring class and even though i can finish this year i will not graduate with a diploma.

so i'm sure there will be either a "peta*tron failed" party or a "peta*tron dropped out of tafe" party.

its always freaking agenda suicide isn't? i actually had to stop listening to one of my tapes in my car because this song was on it and everytime it played on the way to tafe it made me almost turn around. BRILLAINT. i do love the song though. its just not very motivational.

current mood:
anxious
8:07 pm
my knee hurts

i still haven't finished my jacket

i'm procrastinating

can i sleep yet?
Tuesday, June 14th, 2005
---
11:42 pm
- some random photos.
i don't feel like updating since i feel a bit shitty and antisocial and i really wish i could be drinking right now. so you get photos.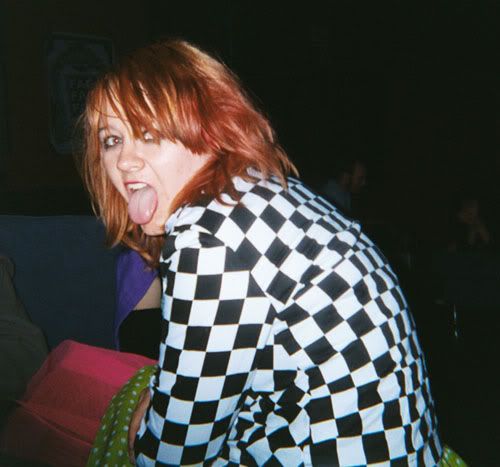 me.. sunday night @ black fag. sober as hell. however i'd put on my make up and did my hair when i was a bit tipsy. a look that didn't quite work, however i think i have a lovely pleasent courtney love thing going. i really need to dye my hair again.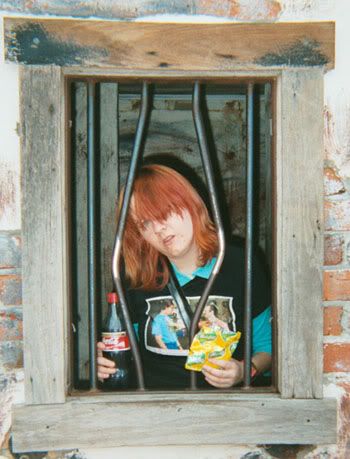 at dreamworld the other week. i was naughty.